Flavour doesn't always have to come from butter and salt.
Most of us cook to feel good about our food, and many of us lean on butter, salt and sugar to ensure that meal brings comfort and warmth. While good quality butter, salt and sugar have a place in a well-balanced diet, I truly believe that seasonings and whole food ingredients, plucked from the earth, can provide flavour and power to your "feel good" meals.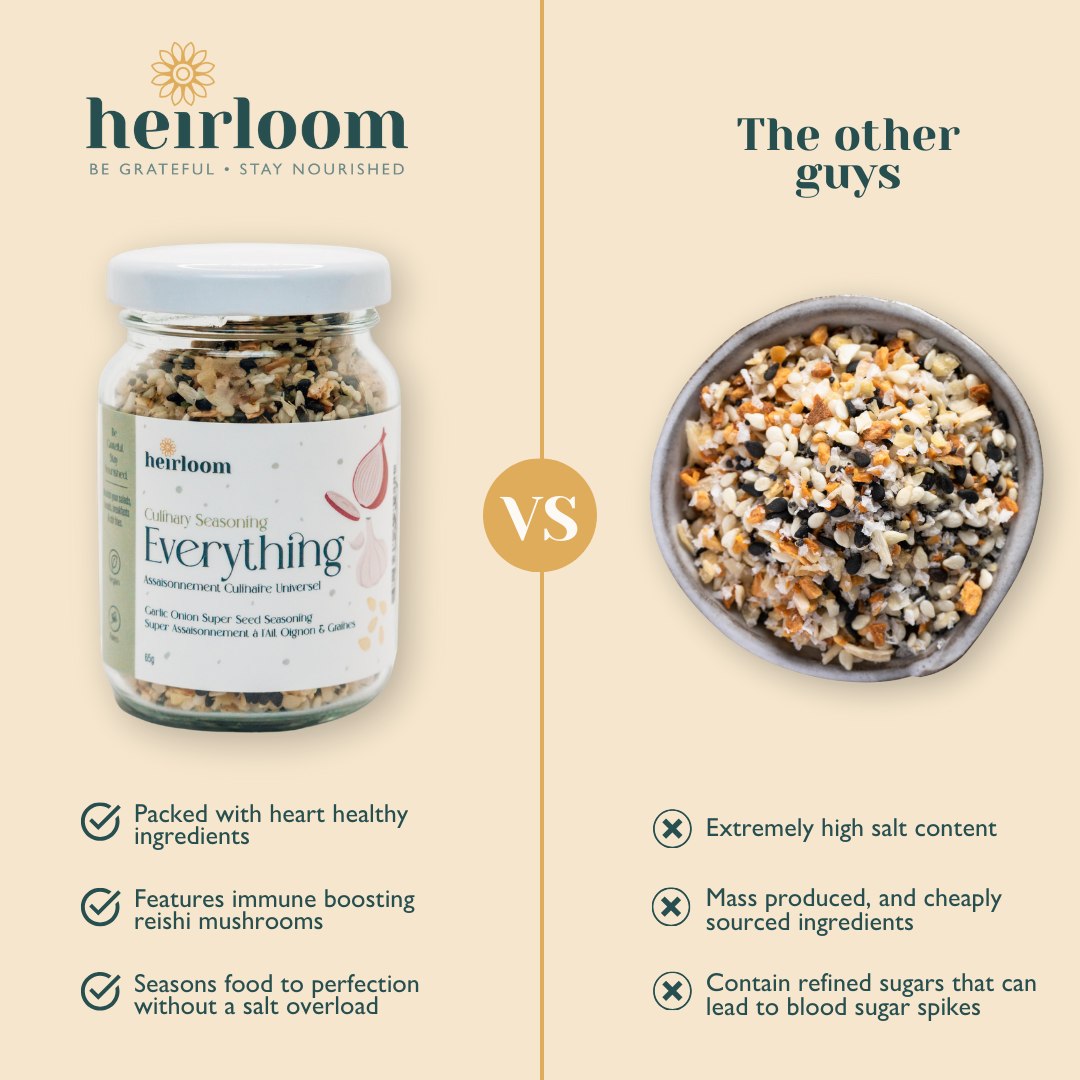 Where other seasoning companies go wrong.
My decade-long in-depth nutrition and culinary studies made me realize there was a gap in the market for seasonings and superfood blends that tasted great and were made and sourced with high-quality, whole-food-based ingredients. 
Many companies provided delicious blends that enhanced your meals but were made with additives, artificial ingredients, GMOs and excess sodium or sugar. Or, alternatively, were healthy and wholesome, but didn't taste great.
There were not a lot of blends out there that were wholesome and whole food based, as well as flavour-packed!
This is how Nourished by Heirloom came to life.
My Purpose is to Nourish Others
I always knew my purpose was to nourish others. As an empath, and a care-giver to my mom, I learned that food is more than just macro-nutrients. The micro-nutrients in good quality ingredients (and the meals prepared using those ingredients) can be used as medicine, to heal myself and the people I love most. I am grateful to be able to use my culinary and nutrition background to develop flavourful blends that bring both of those worlds together.
By making and offering our unique blends of Culinary Seasonings, Superfoods and Super Boosters, it is my intention to create a harmonious connection between nutrition and flavour, making our products the easiest it's ever been to nourish yourself and your loved ones.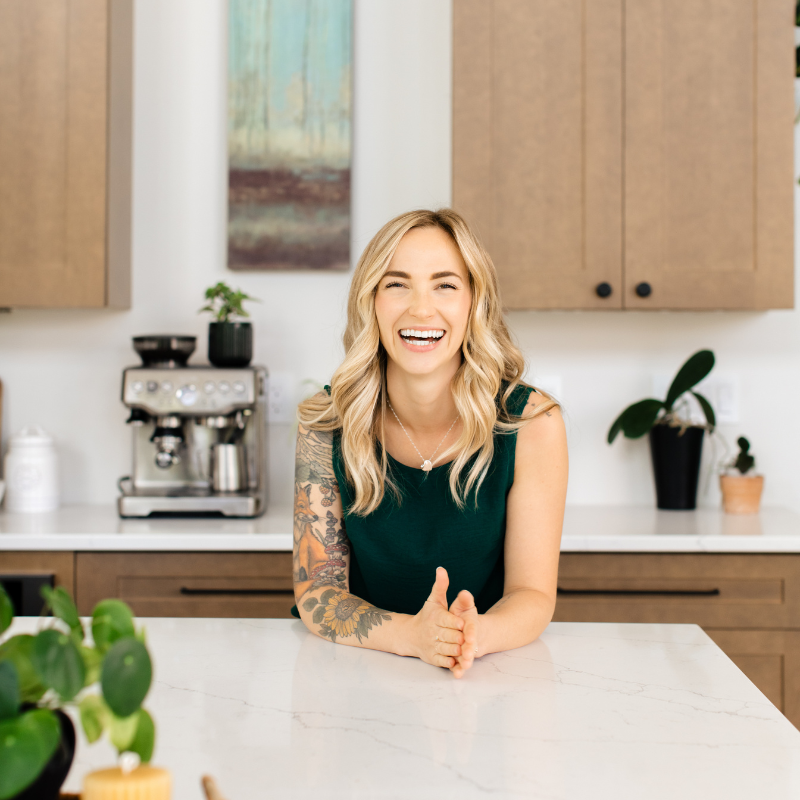 My Mission is Simple
Making the wisdom of ancient herbalism, natural wellness and dietary practices accessible to everyone by offering a variety of organic, artisanal spice, seed and superfood blends that have been consciously curated with flavour and nourishment in mind.
For the busy parent who wants to keep their family free from additives, preservatives or pesticides.
For the cook who wants to start feeding their community responsibly sourced, high-quality meals.
For the shop owner who wants to educate their customers on the importance of micro-nutrients.
For those who are busy but trying to stay healthy or heal their symptoms and are looking for pre-made blends to keep their meal prep simple.
I am here to help you stay nourished while ensuring you absolutely love the food and drinks you consciously make. So welcome to Nourished by Heirloom - discover your next blend here

What Does the Sunflower Mean?
I incorporated a sunflower into our logo to honour my mom, who passed away from a long battle with cancer in 2019.
My mom was a beautiful person inside and out with the biggest, brightest, and colourful personality. She always chose to follow the light and stood strong despite the many stormy days she endured. Just like a sunflower.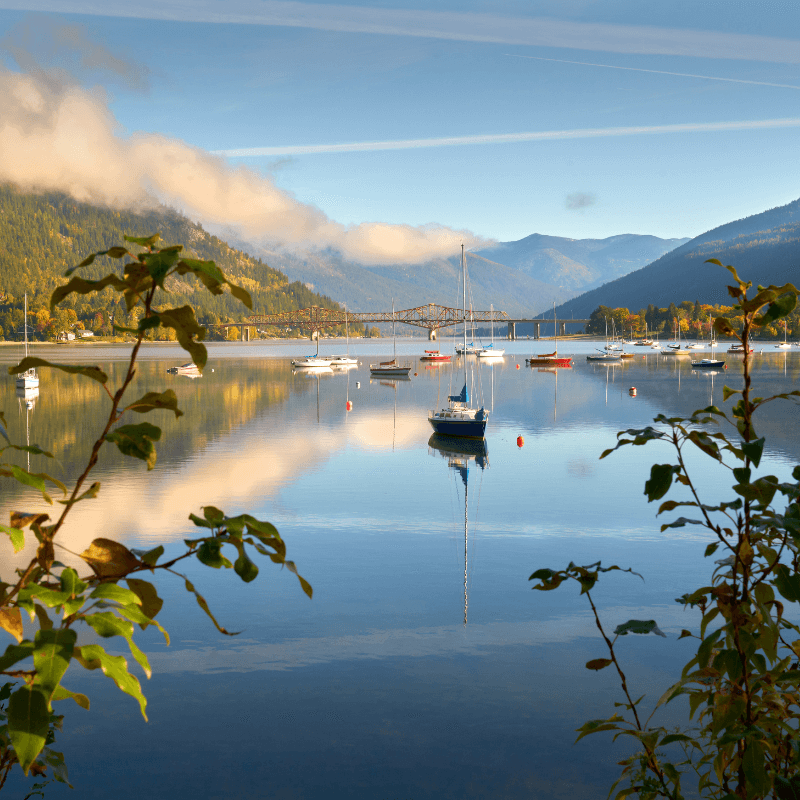 Recognizing Our Native Land
We make our blends in small batches in Nelson, BC, and we would like to acknowledge that the land we gather is the traditional unceded territories of the Sinixt, the Syilx and the Ktunaxa peoples.
Where are you located?

All of Nourished By Heirloom headquarters is nestled in between the mountains of the central Kootenay region in Nelson, British Columbia.
What are your sustainable practices?

As a small business, we do our absolute best to be sustainable and eco-friendly. This means packing all of our products in glass jars that have the ability to be infinitely recycled, and by recycling and re-using plastic bags, cardboard boxes, and stationary whenever possible.
Do you recognize the native land you are located on?

We make our blends in small batches in Nelson, BC, and we would like to acknowledge the land on which we gather is the traditional unceded territories of the Sinixt, the Syilx and the Ktunaxa peoples.