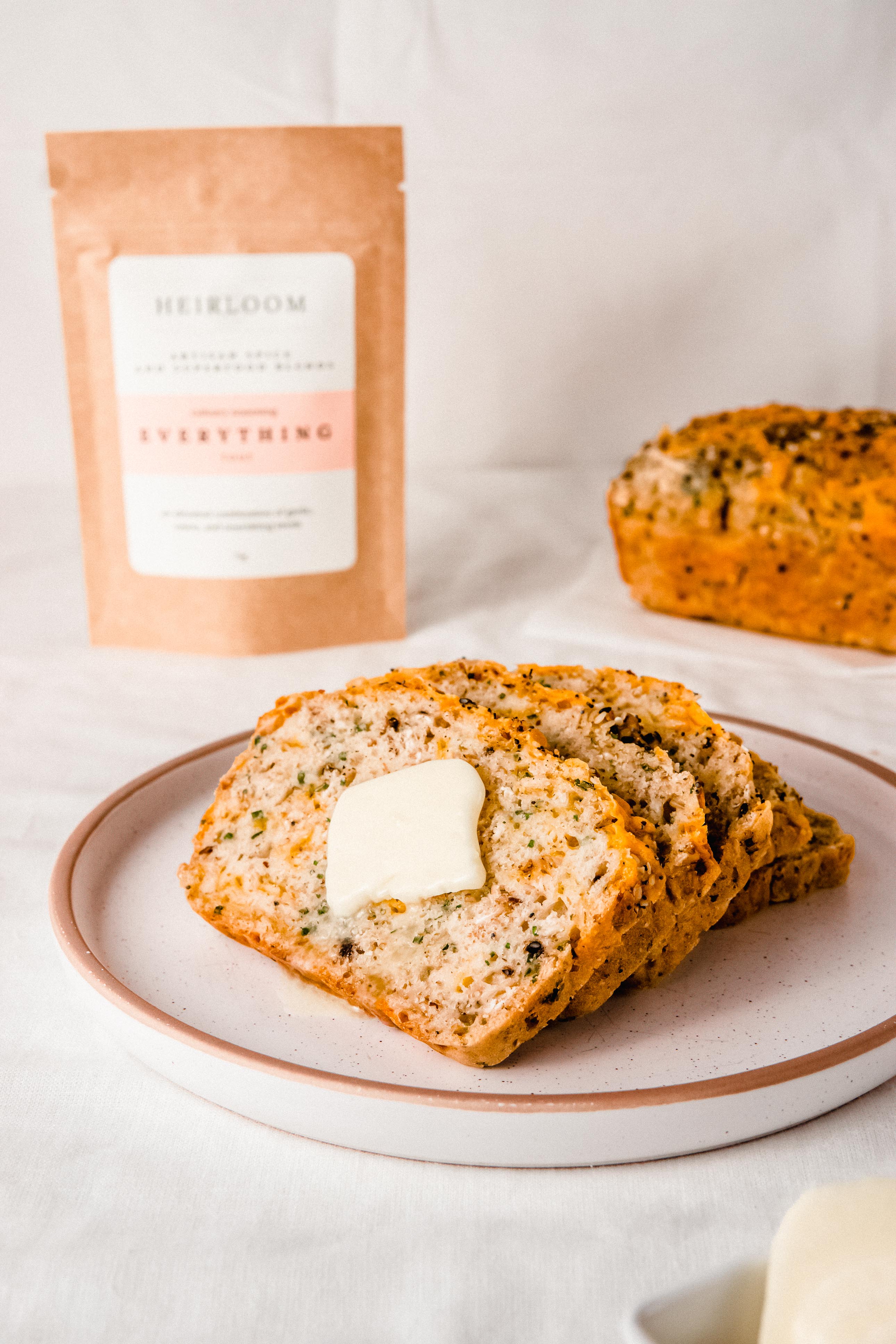 This beer bread is brought to you by an intense craving for fresh bread. The problem however, was that bread takes a lot of time to make. This bread in particular, doesn't take a lot of time to make, so it was the perfect solution and we knew we had to share the recipe with you all!
The convenience of beer bread, is that the naturally occuring yeast in the beer contributes to the leavening of the bread. It is very simple, made by simply just combining all of the ingredients together. No "knead" to be intimidated. 
The Everything culinary seasoning adds delicious bits of texture from the nourishing seeds, with the onion and garlic perfectly accompanying the cheddar and chives used to flavour the bread.
Total time: 45 minutes
Yields: one loaf of bread
Ingredients:
1 cup whole wheat flour

1 cup all purpose flour

½ cup rolled oats

2 tsp baking powder

½ tsp baking soda

1 ½ tbsp Everything culinary seasoning, divided

1 can beer (we prefer to use a lighter beer, such as an ale, pilsner, or IPA)

1 ¼ cup grated cheddar

¼ cup chives, chopped
Directions:
Preheat oven to 400°F

Line an 8 ½ inch x 4 ½ inch bread pan with parchment paper

In a large bowl, combine the flours, oats, baking powder, baking soda and 1 tbsp Everything culinary seasoning.

Pour in the beer, then add 1 cup of grated cheddar and the chives. Gently mix together until combined.

Evenly spread the dough into the prepared bread pan, then sprinkle the remaining ¼ cup of grated cheddar, and ½ tbsp Everything culinary seasoning on top.

Bake for 35-38 minutes or until a toothpick comes out clean.

Let cool on a wire rack for at least 15 minutes before releasing from the baking pan.
Comments (0)